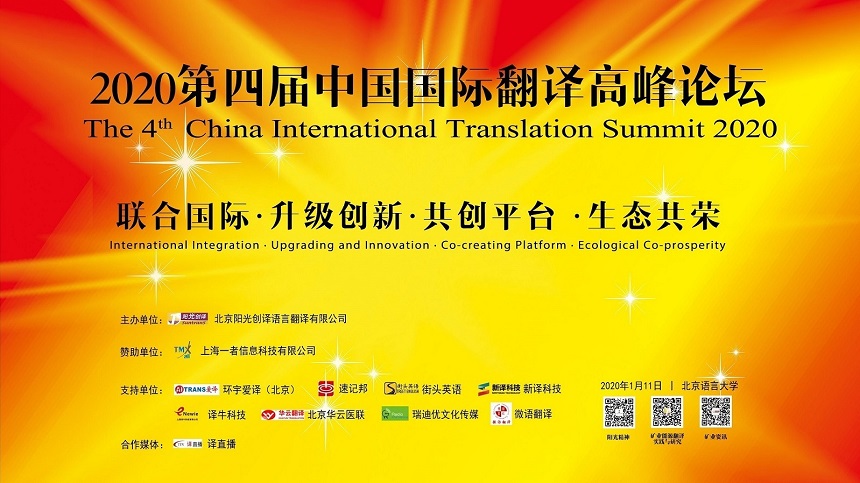 直播:2020年1月11日
国际翻译论坛专题栏目
阳光创译作为国际语言服务平台,每届高峰论坛都会特邀请该领域最领先和最有实践经验的专家们,与大家分享交流经验得失,众多嘉宾将就这些问题分享他们的先进观点并与您面对面对话探讨,我们也更需要听到您的真知灼见!因此,我司联合业界同仁,联合主办了此次会议,期待在此次会议中能与各位能有进一步的交流及合作!
本次会议的规模约为500人,论坛涵盖了翻译行业发展及形势、翻译公司经营管理、机器翻译、翻译技术实践与应用、翻译教育、及翻译职业交流等主题。届时将有大量优秀译员、翻译公司负责人、机器翻译公司负责人、CAT公司负责人、设备公司负责人等等译界同仁参会。本次会议演讲嘉宾主要包括:著名翻译公司高层,业内活跃教师,活跃翻译社团,优秀译员代表等。
As an internationallanguage service platform, for all previous summits, Suntrans has invited themost leading and practical experts in this field to share their experience withparticipants, so does the 4th China International Translation Summit 2020. Inthis upcoming conference, Suntrans will invite many speaking guests to sharetheir advanced views on above issues and talk with you face to face. We alsowould like to hear your insights! Therefore, we cooperate with colleagues inthis industry to co-host this conference and we look forward to furtherexchanges and cooperation with you in this conference!
The conference, with about 500 participants, will be themed with the development and situation oftranslation industry, the management of translation company, machinetranslation, the practice and application of translation technology,translation education and professional communication of translation and so on.At that time, a large number of excellent translators, heads of translationcompanies, machine translation companies, CAT companies, equipment companies,and other translation colleagues will attend the conference. Speaking guestsfor this conference will mainly include: top executives of famous translationcompanies, active teachers in the industry, active translation clubs andoutstanding interpreter representatives.
2020(第四届)中国国际翻译高峰论坛会议日程
8:00-9:00 签到
上午上半场主持人:许卉艳
9:00-9:10(10分钟)
开幕式:开幕致辞及嘉宾介绍 吕国 北京阳光创译 董事长
主办方欢迎辞:孙玉梅 北京阳光创译 联合创始人
9:10-9:40(30分钟)
嘉宾演讲:陈会军 中国地质大学(北京)外国语学院 院长
演讲主题:待定
9:40-10:20(40分钟)
嘉宾演讲:王海波 译牛科技 COO
演讲主题:远程同传—口译译员的新纪元
10:20-10:30(10分钟)
茶歇/集体合影
上午下半场主持人:吕国
10:30-11:00(30分钟)
嘉宾演讲:吕国 北京阳光创译 董事长
演讲主题:待定
11:00-12:00(60分钟)
圆桌论坛题目:《翻译公司运营及人才培养》
参与嘉宾:陈会军、许卉艳、王海波、崔腾原、吕国、王斌、Joe Martin 、韩博超、刘科峰、武中华
下午上半场主持人:陈会军
13:10-13:40(30分钟)
嘉宾演讲:王斌 微语翻译公司CEO
演讲主题:用文字谱写生命,用语言传递文明—浅谈如何培养翻译的工匠精神
13:40-14:10(30分钟)
嘉宾演讲:崔腾原 上海一者 高级商务经理
演讲主题:YiCAT助力翻译企业数字化转型
14:10-14:40(30分钟)
嘉宾演讲:张龙哺
演讲主题:MT与智能CAT的融合发展
14:40-15:10(30分钟)
嘉宾演讲:Joe Martins 街头英语 CEO
演讲主题:Lost in Translation: Intent, Understanding and the Importance of Conversational English
下午下半场主持人:孙玉梅
15:10-15:20(10分钟)
茶歇
15:20-15:50(30分钟)
嘉宾演讲:韩博超 加拿大资深口译员
演讲主题:Performance Stress Management Skills and Practical Applications for Language Interpreters
15:50-16:30(40分钟)
嘉宾演讲:田亮 新译科技 CEO
演讲主题:智能翻译的行业应用
16:30-17:00(30分钟)
嘉宾演讲:刘科峰 瑞迪优文化传媒 董事长
演讲主题:翻译官如何走出人工智能时代的个人迷失
17:00-17:30(30分钟)
嘉宾演讲:武中华 华云思创 CEO
演讲主题:逆向思维在管理中的作用
17:30-17:40(10分钟)
抽奖环节
17:40-18:00(20分钟)
大会闭幕致辞及全体合影
武中华
Wu Zhonghua
自1998年至今,深耕于医疗器械领域的技术资料笔译和口译21年。先后成立北京华云思创翻译中心、北京华云思创文化发展有限公司、迈迪科翻译(北京)有限公司、北京合赢文化(北京)有限公司、现任北京华云医联翻译科技有限公司 CEO
清华大学经济管理学院,MBA管理专业
自主研发办公管理OA系统,集MIS、TPM、SAP、CRM、HR。等功能于一体。
二十一年医疗器械翻译经验,是国内最大的医疗器械专业翻译公司之一。
涉及医学医疗领域最全、最广泛的国内翻译公司
最早制定了完善SOP翻译流程规范的公司之一
中国翻译协会会员
ISO9001质量管理体系认证公司
ISO13485医疗器械质量管理体系认证公司
ISO/IEC27001信息安全管理体系认证公司
Since 1998, Mr. Wu has been engaged in translating andinterpreting technical documents in the field of medical devices for 21 years.He has successively established Beijing Huayun Sichuang Translation Center, Beijing HuayunSichuang Cultural Development Co.,Ltd., Maidike Translation (Beijing) Co.,Ltd.,Beijing Win-win Culture (Beijing) Co.,Ltd. Now he is CEO of Beijing HuayunMedlinker Translation Technology Co.,Ltd.
He has graduated from School of Economics and Management, TsinghuaUniversity, with a MBA degree.
The company has independently developed officeautomation (OA) management system, integrating MIS, TPM, SAP, CRM, HR and otherfunctions.
As one of the largest medical device translationcompanies in China, Beijing Huayun Medlinker Translation Technology Co.,Ltd.has been in the medical device translation field for 21 years.
It is the translation company which has comprehensiveand extensive experience in the medical translation field.
It is one of the first translation companies todevelop a complete SOP translation process specification in China.
Member of Translators Association of China
A company which has passed ISO9001 Quality ManagementSystem Certification, ISO13485 Certificate of Quality Management System for MedicalDevices, and ISO/IEC27001 Information Security Management System Certification.
刘科峰
liu Kefeng
瑞迪优文化传媒(北京)有限公司、瑞迪优国际广告(北京)有限公司 董事长。专注文化传媒和媒体广告行业近20年。中国人民大学法律专业和北京电影学院编导专业学历。电视短片【泥公鸡】、【瓶子里的船】、【114的故事】编导,曾任宁浩导演和郑克洪导演的制片。曾为国内几十家银行广告创意人和北京人民广播电台、中央人民广播电台、中国国际广播电台、北京电视台金融行业媒体独家代理商。2019年开发了基于语言翻译人群社交与应用的互联网软件,力图打造全新的人与人连接的翻译新生态和平台。对翻译行业与移动互联网的应用是一个有益的尝试。
针对人工智能翻译出现以后,从人性、社交、传播的角度阐释翻译个人在新技术面前如何适应、挖掘和发挥个人的能力等方面阐述自己的独特观点。同时,也期待与更多的翻译行业的同仁有一个深入的探讨,为翻译事业做出贡献。
CEO of Radio Cultural Media (Beijing)Co.,Ltd and Radio International Advertising Co.,Ltd.
He has been engaged in cultural media andmedia advertising industry for nearly 20 years, with double majors in both Lawin Renmin University of China and Radio & TV Editing in Communication Universityof China. He had been the producer and director for TV clips of Mud Rooster,Boat in a Bottle, and Story of 114, and had served as producer for directorNing Hao and Zheng Kehong. He had acted as an advertising creative for dozensof banks in China, and exclusive agent for Convergence Media of Beijing People'sBroadcasting Station, China National Radio, China Radio International, BeijingTV Station. In 2019, he has developed a kind of internet software based on thesocial networking and application of language translation groups, in an effortto build a new translation ecosystem and platform for connection andcommunication between people, which is a useful attempt for mobile internetapplication in translation industry.
崔腾原
Cui Tengyuan
上海一者信息科技有限公司(Tmxmall)高级商务经理。
浙江理工大学、中国矿业大学(北京)、北京信息科技大学、上海师范大学企业导师。
主攻计算机辅助翻译及语料库,为全国各大企业提供翻译技术服务及产品解决方案,同时为全国各大高校建设翻译技术实验室及语料库数据系统提供多样化解决方案。企业产品主要包括:YiCAT在线翻译管理系统、Tmxmall在线对齐、qtrans文档快翻等。
Senior Business Manager of Tmxmall; Enterprise Mentor at Zhejiang Sci-Tech University, China University ofMining and Technology (Beijing), Beijing Information Science and Technology University, Shanghai NormalUniversity.
Tmxmall, is mainly focusing oncomputer-aided translation and corpus, providing translation technologyservices and product solutions for enterprises across the country, as well asdiversified solutions for constructing translation technology labs and corpusdata systems for universities in China. The products mainly include YiCATonline translation management system, Tmxmall online alignment, Qtrans quicktranslation, etc.
张龙哺
Zhang Longbu
研究员,计算机人工智能翻译专家
从80年代开始长期从事计算机翻译技术研发和推广应用。
2004 年首创地提出智能知识库理论和基于智能知识库的人工智能翻译理论,2005年赴加拿大滑铁卢大学Vestec交流和学习人工智能技术,2009年回国创新创业,带领爱译科技研发团队先后攻克几十项计算机人工智能翻译技术难关,成功地研发出国际领先的爱译智能CAT、基于智能知识库的人工智能翻译系统、以及基于互联网的共建共享型网络化智能翻译平台等(获得多项中国专利和美国专利);并获得中关村和北京市多项创新优秀项目奖、第九届北京发明创新大赛金奖。
Researcher, and Expert in computer artificial intelligence translation.
Since the 1980s, he has been engaged in the research and development, promotion and application of computer translation technology for a long time. In 2004, he initiatively put forward the theory of intelligent knowledge base, based on which he proposed the artificial intelligence translation theory. In 2005, he went to the Vestec center of University of Waterloo in Canada to learn artificial intelligence technology, and in 2009 he returned back to China to start a business. He has led the Aitrans team to overcome dozens of difficulties in computer AI translation technology, and successfully developed the international advanced Aitrans intelligence CAT software, the AI translation system based on the intelligent knowledge base, and the Internet-based co-building and sharing type networked intelligent translation platform (obtained a number of Chinese and United States patents), and thus won a number of Zhongguancun and Beijing outstanding innovation project awards, and gold medal of "the 9thBeijing Invention and Innovation Competition Awards".
王海波
Wang Haibo
译牛科技COO,曾供职中国施乐、传神、365翻译和阿里巴巴等知名企业,历任销售经理、销售总监、副总裁等职务。
2014年-2015年全程参与阿里巴巴收购365翻译的过程,2015年加入阿里巴巴任高级运营专家,后先后负责阿里翻译供应商体系运营、阿里翻译生态运营,负责供应商运营期间充分保障了短期大规模翻译业务的正常运转。
COO of Shanghai eNewie Technology Co.,Ltd.
He has worked for such well-knownenterprises as Xerox (China), Transn, Translation 365, and Alibaba, havingserved successively as Sales Manager, Sales Director, Vice President and soon.
From 2014 to 2015, he took fullparticipation in the process of Alibaba's acquisition of Translation 365. In2015, he joined Alibaba and served as a senior operation expert, having beensuccessively responsible for the operation of supplier system for AliTranslation and ecological operation of Ali Translation. When working asresponsible person for operation of supplier system, he had fully guaranteedthe normal operation of short-term large-scale translation business.
陈会军
Chen Huijun
中国地质大学(北京)外国语学院院长、教授、硕士导师
国际写作研究大会(美国)学术委员会委员
教育部学位论文评审专家、北京市学科评估专家
致公党中央教育专委会委员、致公党北京市教育专委会委员
中国生态翻译和认知翻译学会常务理事,国内多家学术期刊匿名审稿人
国际期刊 the Journal of pragmatics 的匿名审稿人
2002年获北京师范大学博士学位,主持或参与科研项目十多项。发表在Journal of Pragmatics等国际期刊、《外语与外语教学》、《外语学刊》等期刊发表学术论文近40篇、各类译文几十篇。出版专著、学术译著、教材各1部。参与词典编篡1部。
Dean of School of Foreign Languages, Professor and Master's Supervisor at China University of Geosciences (Beijing).
Member of International Writing Research Conference (America) Academic Committee; Dissertation Evaluation Expert of Ministry of Education and Curriculum Evaluation Expert in Beijing; Member of Central Education Special Committee of China Zhigong Party and Member of Beijing Education Special Committee of China Zhigong Party; Executive Member of China Eco-translation and Cognitive Translation Society; Anonymous Reviewers for many academic journals in China and for the Journal of Pragmatics.
She has received her PhD from Beijing Normal University in 2002. She has presided over or participated in over 10 scientific research projects. she has published about 40 academic papers in Journal of Pragmatics, Foreign Languages and Their Teaching, Foreign Languages Research and so on, dozens of translation works, one monograph, one academic translation, and a set of teaching material. Besides, she has participated in the compilation of a dictionary.
吕国
Lyu Guo
北京阳光创译语言翻译有限公司 董事长
美国纽约阳光创译矿业咨询公司 总裁
中国矿业大学(北京)MTI翻译硕士校外导师
中国地质大学(北京)矿物学、岩石学、矿床学博士
北京大学 地质学 博士后
资深地矿同传翻译
矿业咨询专家
吕国博士曾公派留学于美国迈阿密大学(Miami University),曾就职于世界最大的国际矿业公司—必和必拓(BHP Billiton)和中国地质调查局境外矿产战略研究室。在北京大学地空学院地质系做博士后期间,主要研究全球成矿规律。他也曾先后赴加拿大、美国、非洲乌干达、香港、巴基斯坦、尼加拉瓜、哥斯达黎加、法国、荷兰和斯里兰卡等国家或地区提供地质矿业翻译,并参与了许多大型国际矿业项目的收购。以吕国博士为首创立的专业语言服务管理团队已持续多年为中国国际矿业大会、加拿大勘探与开发者协会(PDAC)、中国-东盟矿业合作论坛、铁矿石高端论坛、中国国土资源部、中国地质调查局和中国商务部援外培训班等重要会议和论坛提供语言翻译服务。
作为地质矿业专业领域语言服务的领航者,吕国博士曾为多国政要,如非洲多国大使、乌干达副总统爱德华、原中国国土资源部副部长汪民、科技与国际合作司司长姜建军等提供口译服务,并受到中国中央电视台 CCTV、美国ABC 电视台、乌干达国家电视台 NT、非洲《New Vision》、《Daily Monitor》、《Mirror》及《中国国土资源报》等媒体的采访和报道。
President of Beijing Suntrans Language TranslationCo.,Ltd.
CEO of New York Suntrans Mining ConsultingLLC.
MTI Off-campus Supervisor at ChinaUniversity of Mining and Technology (Beijing)
Ph.D. in Mineralogy, Petrology and MineralDeposits at China University of Geosciences (Beijing)
Post Doctorate in Geology at PekingUniversity
Senior Simultaneous Interpreter in Miningand Geology
Expert in Mining Consulting
Dr. Lyu Guo was jointly cultivated by MiamiUniversity in the U.S. (government-sponsored). He has worked for the world'slargest international mining company BHP Billiton and Overseas Mineral StrategyResearch Office of China Geological Survey. As a postdoctoral fellow, duringhis study in the Department of Geology of School of Earth and Space Sciences,Peking University, he has mainly researched on the laws of globalmineralization. He has provided geology and mining translation andinterpretation services in many countries, such as Canada, the United States,Uganda, Hong Kong, Pakistan, Nicaragua, CostaRica,France, Netherlands, Sri Lanka and other countries and regions and participatedin the acquisition of many large international mining projects. Theprofessional language service team, led by Dr. Lyu Guo, has been providinglanguage translation and interpretation services for so many importantconferences and forums as China Mining, the Prospectors and DevelopersAssociation of Canada (PDAC), China-ASEAN Mining Cooperation Forum, Iron OreHigh-end Forum, Ministry of Land and Resources of China, China Geological Surveyand Overseas Aid Training Course of Ministry of Commerce for many years.
As a professional translator andinterpreter in the field of geology and mining, Dr. Lyu Guo has providedinterpretation services for so many political leaders at home and abroad asAfrican ambassadors; Edward, Vice President of Ugandan; Wang Min, former ViceMinister of Ministry of Land and Resources of PRC; Jiang Jianjun, Director ofInternational Department of Ministry of Land and Resources, and has beeninterviewed or reported by China Central Television (CCTV), AmericanBroadcasting Company (ABC), Uganda National Television (NT), New Vision, DailyMonitor, Mirror and China Land and Resources News and others.
王斌
Wang Bin
微语翻译公司CEO,中国最早从事多语种翻译研究和市场探索的开拓者。经过多年的潜心探索,为中国的多语种翻译从无到有,最后逐步完善做出了卓越的努力。
2008 年被中国译协邀请参加2008世界翻译大会并发表主旨演讲,为五大洲的同行介绍中国的翻译市场远景和未来。
最近几年,王斌先生经常受邀参参加国内外著名会议和论坛,积极投身于翻译市场诚信体系的建设和研究,常年为中国的翻译市场诚信体系的建设奔走呼号。王斌先生的演讲以视角独特、思想锐利、激情四射著称,深受海内外翻译界朋友的欢迎和喜爱。
CEO of Microtrans Translation Company
WangBin is the earliest pioneer in multilingual translation research and marketexploration in China. After years of painstaking exploration, he has madeoutstanding contributions to the multilingual translation in China from scratchto gradually improve.
In2008, he was invited by China Translation Association to attend the 2008 FITWorld Congress and delivered a keynote speech to introduce the vision andfuture of China's translation market to counterparts from five continents.
Inrecent years, Mr. Wang Bin has been invited to participate in famousconferences and forums at home and abroad, and has been actively engaged in theconstruction and research of the integrity system of the translation market. Hehas been running for the construction of the integrity system of thetranslation market in China all the year round. Mr. Wang bin's speech is featuredby unique perspective, sharp thinking and passionate spirit, which is wellreceived by the colleagues in translation field at home and abroad.
田亮
Tian Liang
新译科技CEO
主攻自然语言处理机器翻译课题研究,先后发表SCI期刊1篇,国际会议论文9篇,发明专利7项,机器翻译相关软著60项。
2015年澳门大学博士休学,创立新译信息科技(北京)有限公司。2016年10月和2017年5月带领团队分别获得清华大学力合科创集团1000万天使轮融资和博将资本、美亚梧桐基金、凯泰资本5500万轮天使加融资。
2017年10月,荣获人工智能最高奖—吴文俊人工智能奖
2018年获北京市第十三批"海聚工程"入选专家
2019年获得深圳青年技术奖。
CEO of NewTranx Information Technology Co.,Ltd.
He is mainly engaged in subject research on machine translation by application of Natural Language Processing (NLP). He has published 1 SCI paper, 9 international conference papers, obtained 7 invention patens and 60 Service guarantees on machine translation.
In 2015, he suspended his PhD study in University of Macau, and established NewTranx Information Technology (Beijing) Co.,Ltd. In October 2016 and May 2017, the team led by him respectively received 10 million Angel investment from Leaguer Group Co.,Ltd. (held by the research institute of Tsinghua University in Shenzhen), and 55 million Angel added-investment from Bojiang Captial, Meiya Wutong Fund and Kaitai Capital.
In October 2017, he won the highest award in the field of artificial intelligence – WU WEN JUN AI Science & Technology Award.
In 2018, he was selected to be one of the 13th batch experts of Beijing overseas talent gathering project.
In 2019, he was awarded the Shenzhen Youth Science and Technology Award.
许卉艳
Xu Huiyan
中国矿业大学(北京)外语系教授,外国语言学及应用语言学和英语笔译专业硕士导师,北京市高等教育学会研究生英语教学研究分会理事。长期从事英语教学及相关研究,近年来国内外发表学术论文二十余篇、主编或参编教材及教辅读物二十余种、译著七部、专著一部;主持或参与省部级及校内研究项目二十项左右。
Associate Dean of School of Grammar, ChinaUniversity of Mining and Technology (Beijing); Professor of Foreign LanguageDepartment; Master Supervisor of Foreign Linguistics and Applied Linguisticsand English Written Translation Major; Director of Graduate English TeachingResearch Branch of Beijing Higher Education Association.
XuHuiyan has been engaged in English teaching and related research for a longtime and published more than 20 academic papers at home and abroad in recentyears. She has edited or participated in the compilation of more than 20 kindsof teaching materials and auxiliary reading materials, seven translated worksand one monograph. She has presided over or participated in about 20 provincialand ministerial level and school research projects.
韩博超
Han Bochao
加拿大York University MCI 毕业,中英双母语,目前在清华大学读国际工程项目管理硕士,研究是人因工程方向,和同声传译有关。
在加拿大期间,MCI毕业后考进了加拿大联邦翻译局(~5%录取率),负责加拿大和中国司局级和省部级会议的交传同传。实习在联合国维也纳。
本次会议演讲是从心理学和部分神经科学角度讲述了完美主义,焦虑,压力和口译表现的探讨,包含部分应对技巧。
He has graduated from York University inCanada with the degree of MCI, with both Chinese and English as mother tongues.He is now studying for his master's degree at Institute of InternationalEngineering Project Management of Tsinghua University, with the researchdirection in Human-factors Engineering which is related to simultaneousinterpretation.
During his stay in Canada, after obtainingthe degree of MCI, he was admitted to the Federal Translation Agency of Canada( admission rate is only about 5%) and was responsible for consecutive andsimultaneous interpreting for the departmental-level and provincial-levelconferences between China and Canada. He has taken an internship at the UnitedNations in Vienna.
His speech at this conference will focus onexploring the relations between perfectionism, anxiety, stress and interpretingperformance from a psychological and neuroscience perspective, including somecoping skills in interpreting.
Joe Martins
美国IT行业分析师、营销顾问、作家、主持人和企业家。从业20余年,拥有丰富营销经验和沟通技巧,能促进公司、团队和个人更有效地进行沟通。Martins 先生曾任职的企业和服务过的客户包括洛克希德马丁公司(Lockheed Martin)、通用动力(General Dynamics)、IBM、惠普、思科、易安信(EMC)、太阳微系统公司(Sun Microsystems)、OpenPages 软件公司、太仓力九和塑胶工业有限公司、苏州冠纶电子科技有限公司等。
在与英语水平参差不齐的中国客户和同事共事4年后,从2019年开始,Martins先生开始了一项新的事业,致力于帮助中国各个年龄段的人掌握和提高社交、政治和经济活动中的英语会话能力。他的教育理念很简单:坐在教室里,通过严格死板的练习是无法掌握和精通一门语言的,而要想真正做到这一点,需走上街头将语言学习融入到实际的生活中,也正是基于这一理念,他创办了"街头英语"。
Joe Martins is an American IT industry analyst, marketingconsultant, writer, presenter and entrepreneur with more than two decades of experience helpingcompanies, teams and individuals communicate more effectively. Mr. Martins'past employers and clients include Lockheed Martin, General Dynamics, IBM, HP,Cisco, EMC, Sun Microsystems, Openpages, Taicang All Mats Plastic IndustryCo.,Ltd., Suzhou Ever-Ocean Electronic Technology Co.,Ltd., and more.
In 2019, after 4 years ofexperience working with Chinese clients and colleagues who possesseddramatically different English skill levels, Mr. Martins embarked on a newmission to help people of all ages in China master the social, political andeconomic power of conversational English. His philosophy is simple: the fullpower and mastery of language cannot be learned inside a classroom withregimented exercises; it's earned on the streets through real-world practice.
会议名称:2020(第四届)中国国际翻译高峰论坛
会议主题:联合国际 升级创新 共创平台 生态共荣
会议地点:北京市海淀区北京语言大学清晏楼5楼
会议时间:2020年1月11日
会议主办方:北京阳光创译
会议联系人
吕国博士(总负责人)
微信/电话: 13401184506 QQ: 1127203572
王福兴
电话: 15210926175 QQ: 1967546028
王薇
微信: suntransmaple QQ: 2491086804
王洋
微信/电话: 13661190472
曹亚慧
微信: suntrans2015 QQ: 2016459447
钟凌峰
微信: suntrans2014 QQ: 1985130191
Conference Name: The 4th ChinaInternational Translation Summit 2020
Conference Theme: InternationalIntegration; Upgrading and Innovation; Co-creating Platform; EcologicalCo-prosperity
ConferenceVenue: The 5th floor, Qingyan Building, Beijing Language and CultureUniversity, Haidian District, Beijing
ConferenceDate: January 11, 2020
ConferenceOrganizer: Beijing Suntrans Language Translation Co.,Ltd.
ContactPerson
Dr. Lyu Guo (General Superintendent)
WeChat/Phone: 13401184506; QQ: 1127203572
WangFuxing
Phnoe: 15210926175; QQ: 1967546028
WangWei
WeChat: suntransmaple; QQ: 2491086804
WangYang
WeChat/Phone: 13661190472
CaoYahui
WeChat: suntrans2015; QQ: 2016459447
ZhongLingfeng
WeChat: suntrans2014; QQ: 1985130191